Urologist Aurel Messas, one of the pioneers of minimally invasive urological surgery in Europe, spoke to the press about prostate cancer. He explained how to prevent this disease.
Visiting Côte d'Ivoire as part of the Talent medical project, the fruit of collaboration between the American hospital and Pisam, Dr. Aurel Messas shared his know-how with his Ivorian colleagues. On the same occasion, he gave instructions on the steps to be taken to prevent or even cure prostate cancer.
When to consult?
The urologist has set the period for the first prostate check-up, after which every man should think about having his prostate examined. In his opinion, five years after the age of forty is the ideal time.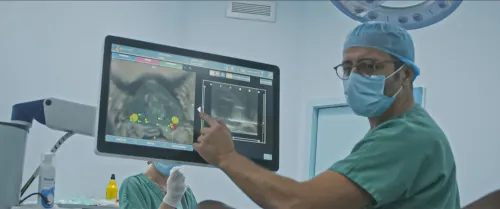 "In Africa, 45 is the first time you absolutely have to have a blood test and a consultation, a Psa test. Psa is a blood test used to detect prostate cancer. Prostate cancer is a disease that evolves for a long time without giving any symptoms", he advises patients and, by extension, all men.
The surgeon insisted on prevention. Because, to hear her tell it, many men have a complex about talking about their intimacy. So, he warns, "if you wait until you have symptoms to consult us, it's often already too late. And what's really astonishing is that people don't seek help because they're afraid of the consequences of prostate cancer. And that's how they cause these complications.
Prejudice
According to physician Aurel Messas, there are still many apprehensions in people's minds. No matter what their financial or social situation. He explains that "people think prostate cancer equals impotence and incontinence ". However, modern techniques are available to overcome both of these potential drawbacks of this male pathology.
The surgeon was also keen to raise awareness of early detection of prostate cancer. In his view, this is the only way to keep treatment costs under control.
Thanks to Psa dosage, it can be cured without any after-effects.
"Today, when prostate cancer is treated very early, by detecting it very early, thanks to Psa dosage, it can be cured without causing after-effects. There are modern techniques that prevent impotence and incontinence after cancer treatment. Cancer treatment costs less when it's detected early than when it's detected late," he stressed.
During his stay in Côte d'Ivoire, Dr. Aurel Messas was able to see 40 patients. He has also performed surgery on 15 cases of prostate cancer. It treats diseases of the urinary tract in both men and women, as well as the male genital tract .
(L'info drome)